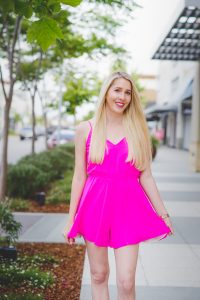 Hi! I'm Amanda, also known as Deal Hunting Babe. I am a deal finding, money saving, freebie hunting, obsessive compulsive shopper. To say I am passionate about saving money and helping others do the same is a major understatement! I call myself the Chief Savings Officer here at Deal Hunting Babe, fitting right?! Welcome to my world of savings!
Being frugal started with my bubbie (yiddish for grandma), she was the QUEEN of couponing and frugality. My mom learned from her and I learned from them both. Of course not right away though. They would bring STACKS of coupons to the stores (back in the day) and I was honestly embarrassed. Living in Los Angeles can be kind of difficult where everyone thinks they have an image to uphold. Little did I know saving money is so cool!!
Since I was a young girl I LOVED fashion. I got the cosmo, seventeen, and other sorts of magazines to see the latest trends, this was before internet was a big thing. It was hard trying to be trendy and "fit in" with the price tag of being fashionable. This is why I created the lifestyle portion of the blog. Everyone wants to be a fashionista without breaking the bank!
You will find a lifestyle portion of the blog under the "LIFESTYLE" tab where you will see my styles. You too can be a fashionista while wearing the latest trends. There you will also find my favorite recipes and make up deals! Follow my Lifestyle journey!
Enough about me let me tell you a little more about Deal Hunting Babe:
Here we find the hottest in store and online deals, money-saving tips and so much more! in 2014 Amanda started a couponing Instagram page which then lead to her blogging journey. She dove right in and learned everything she could about couponing and is here to share her knowledge and teach you all the same.
If there is a hot offer you can be sure it will be posted here! New posts are added frequently so check back often!
Be sure to follow Deal Hunting Babe on: