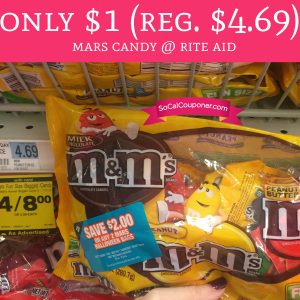 WOW! Hurry on over to your Rite Aid to see if you have these $2/2 peelie coupons on select bags of Mars Halloween candy! These coupons may not be found at every store but its definitely worth checking. These are currently on sale this week for 4 for $8 and use two $2/2 peelie coupons found on the product to score each bag for just $1! This is a HOT deal with Halloween right around the corner! 🙂
Here's the breakdown:
Buy 4 Bags of Mars Halloween Candy @ 4 for $8
Use two $2/2 Peelie coupon (found on the product) – $4
Final price $4 or $1 each!!