Calling all parents and parents to be! Check out this awesome deal on a Karen Crib by Viv + Rae over on Wayfair! These are currently on sale for just $113.81 (Regular $259) and you will get a unique 10% off promo code in your Wayfair account upon sign up. That will drop the price down to just $102.43. Super awesome deal if you are in need of a crib or looking to purchase one as a gift too! Get yours here!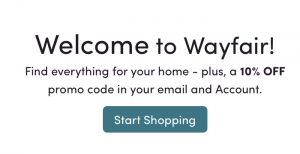 Once signed up you will receive a pop up with an additional 10% off unique promo code in your account and email
Search Karen Crib and it will pop right up (only available in soft grey)
Add to cart and check out
Shipping is free with all order over $49
Final price $102.43!!
Head on over to Wayfair to score yours now!